The KW Clubsport coilovers utilize the uncompromising transfer of technology from the world of motorsports to track day/street driving.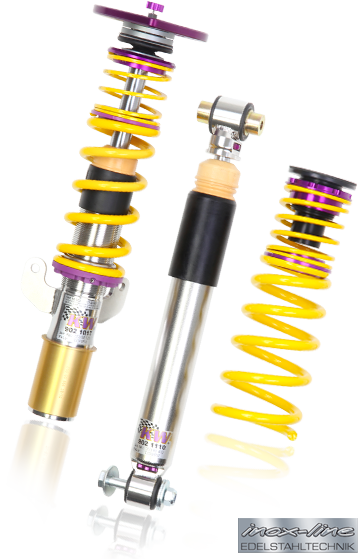 The KW Clubsport coilovers provide the ability to adjust for different track surfaces, sharp turns, and abrupt elevation changes. The KW Clubsport is in its home environment on the famous twists and turns of the 20.8 km long Nürburgring Nordschleife circuit.
As a supporting suspension manufacturer to numerous different racing series, KW has claimed 6 ADAC Zurich 24-hour victories within 10 years at the famous Nürburgring circuit, and the ADAC GT Masters 2011 Championship. More than 70 race teams are equipped with KW coilover systems in the VLN Endurance Championship series. These race teams rely on KW's racing expertise and experience for their vehicle setup. This information is mirrored in the development of the KW Clubsport coilover systems.

The KW Clubsport 2-way and KW Clubsport 3-way (with separate reservoir) provides the user numerous adjustment settings. This allows the user to dial the suspension setup to their driving style and to adjust or match the tire/wheel setup of the vehicle.

Rebound and compression dampening is independently adjustable by hand via the integrated click adjusters. Adjustable top mounts are optional on certain applications.
KW Clubsport coilovers 2-way Racing Technology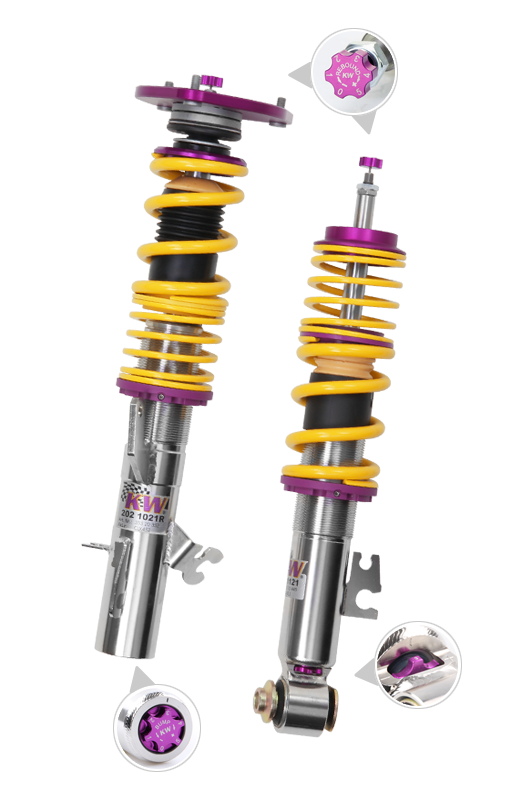 The rebound adjuster knob provides 16 precise clicks to personally dial in your desired vehicle setup. Thus allowing you the possibility to influence wheel/tire loads or take into concern chassis characteristics. Independent from rebound adjustment is the compression dampening, 12 precise adjustment clicks are provided to adjust the low-speed dampening. Most notably used to dial in wheel/tire setup.

These adjustment features allow the user to dial in vehicle weight, wheel/tire combinations, various road surfaces and environmental conditions.
- Independently adjustable rebound and - compression damping technology
- Stainless steel technology "inox-line"
- Continuous lowering
- TÜV-tested adjustment range
- High-quality components for a long-term durability
- Adjustable rebound damping with 16 precise clicks
- Adjustable compression damping with 12 precise clicks
- Unique independent damping force adjustment
- Optional spherical bearing aluminum top mounts
Setup: Application and damper settings
The KW Clubsport 2-way coilovers provide the ideal adjustment range for race tracks such as the Nürburgring Nordschleife and other racing circuits.
Please refer to this list for the available Audi applications
| | | |
| --- | --- | --- |
| Audi | Year | Part Number |
| A3 (8P) FWD, all engines | 06-13 | 35210850 |
| A3 Quattro (8P), all engines | 06-13 | 35210852 |
| A3 (8V) FWD, 1.8T, without electronic dampening control | 15+ | 3528080N |
| S4 (8E/B6, QB6) Sedan Quattro | 3/03-07 | 35210735 |
| S4 (8E/B6, QB6) Convertible + Avant; Quattro | 3/03-07 | 35210765 |
| RS4 (QB6) Sedan Quattro | 07-08 | 35210751 |
| RS4 (QB6) Convertible + Avant; Quattro incl. facelift | 07-08 | 35210761 |
| TT (TTC, TTR) Coupe + Roadster; FWD; all engines | 00-06 | 35210831 |
| TT (TTC, TTR) Coupe + Roadster; Quattro; all engines | 00-06 | 35210841 |
| TT (8J) Coupe; FWD; all engines | 07-09 | 35280842 |
| TT (8J/A5) Coupé Quattro; all engines | 07-15 | 35280842 |
| TT (8J/A5) Roadster, FWD (4 cyl.) | 08-09 | 35280842 |
| TT (8J/A5) Roadster Quattro (6 cyl.) | 07-15 | 35280842 |
| TTS Coupe & Roadster (8J/A5) | 09-15 | 35280842 |
| TT RS Coupe (8J/A5) | 12-13 | 35280842 |
Our Policies
PRICING
Prices on website are reflected in US Dollars and are applicable for orders within Canada and USA only. Inquiries from outside of North America may be subject to different prices. Please contact our sales team for further details. Prices are subject to change without notice.
METHODS OF PAYMENT
For domestic orders (Canada and United States), HPA accepts payment via PayPal, Visa, or Mastercard for most items. All International orders and all domestic Turbo Systems and Custom Vehicles must be paid via Bank Transfer.
SHIPPING
Unless otherwise noted or requested, HPA ships via UPS. We are unable to ship to PO Boxes. For security purposes, HPA Motorsports will ship only to the verified billing address of the credit card used.
INTERNATIONAL ORDERS
Brokerage, Duty, or VAT may be imposed by the importing country, and these charges will be the sole responsibility of the recipient.
CANCELLATIONS
Order Cancellations are subject to a 10% processing fee.
RETURNS
All returns must be approved by HPA Motorsports. NO RETURNS after 30 days from your order date. All returned goods must be in brand new, un-used, un-installed condition in their original packaging. Shipments will not be accepted without a Return Merchandise Authorization (RMA) number and must be shipped freight pre-paid. Any brokerage fees incurred by HPA to receive returned goods will be billed back to the customer. NO REFUNDS on electrical, special order, used, or non-stock items. A restocking fee of 15% will apply to all returned items.
SPECIAL ORDERS
All Special Order items including Custom Vehicles, FT-series Turbo Systems, Non-Stock items, etc., require a Non-Refundable deposit of 70% upon booking order. Balance is due prior to release of shipment.
SHIPPING DAMAGE
All orders are shipped insured against loss or damage in transit. It is important that you inspect your package with the driver present and denote any suspected damage at time of delivery. Damage should be reported to the carrier immediately.
ACCOUNTABILITY
HPA Motorsports Inc. is accountable and responsible for personal information under its control and has designated a Privacy Officer who is accountable for compliance with this Policy.
PURPOSES
At HPA Motorsports Inc., we collect, use, and disclose Personal Information to provide you with the services you have requested and to offer you additional products and services we believe you might be interested in.
Personal Information may include your name, address, birthday, personal identification numbers, vehicle information, credit card or banking information, transaction details, etc.
CONSENT
Personal Information will only be used for the purpose for which it was collected and will not be disclosed to any outside parties without your explicit consent, except when permitted or required by law, for example; in relation to criminal investigations or government tax reporting requirements.
LIMITS ON COLLECTION AND USE OF PERSONAL INFORMATION
HPA Motorsports Inc will limit collection of information to that which is reasonable and necessary to provide the products and services you have requested.
In the course of daily operations, access to private, sensitive and confidential information is restricted to authorized employees who have a legitimate business purpose and reason for accessing it. All employees and independent contractors of HPA Motorsports Inc. are informed about the importance of privacy and are required to abide by the privacy standards we have established.
ACCURACY
HPA Motorsports Inc. will make a reasonable effort to ensure that Personal Information it is using or disclosing is accurate and complete. In some cases, HPA Motorsports Inc. relies on you to ensure that certain information, such as your address or telephone number, is current, complete and accurate. Should you identify any incorrect or out-of-date information in your file, HPA Motorsports Inc. will amend the information as required and, if appropriate, will send the amended information to third parties to whom the information has been disclosed.
SAFEGUARDING YOUR INFORMATION
HPA Motorsports Inc. protects the Personal Information in its custody or control by making reasonable security arrangements to prevent unauthorized access, collection, use, disclosure, copying, modification, disposal or similar risks. Electronic customer files are kept in a secure password protected environment, and paper-based files are stored in locked filing cabinets.
COMPLIANCE
Any inquiries, complaints or questions regarding this Policy should be directed in writing to the HPA Motorsports Inc. Privacy Officer at 100 – 10185 199B Street, Langley BC V1M 3W9.